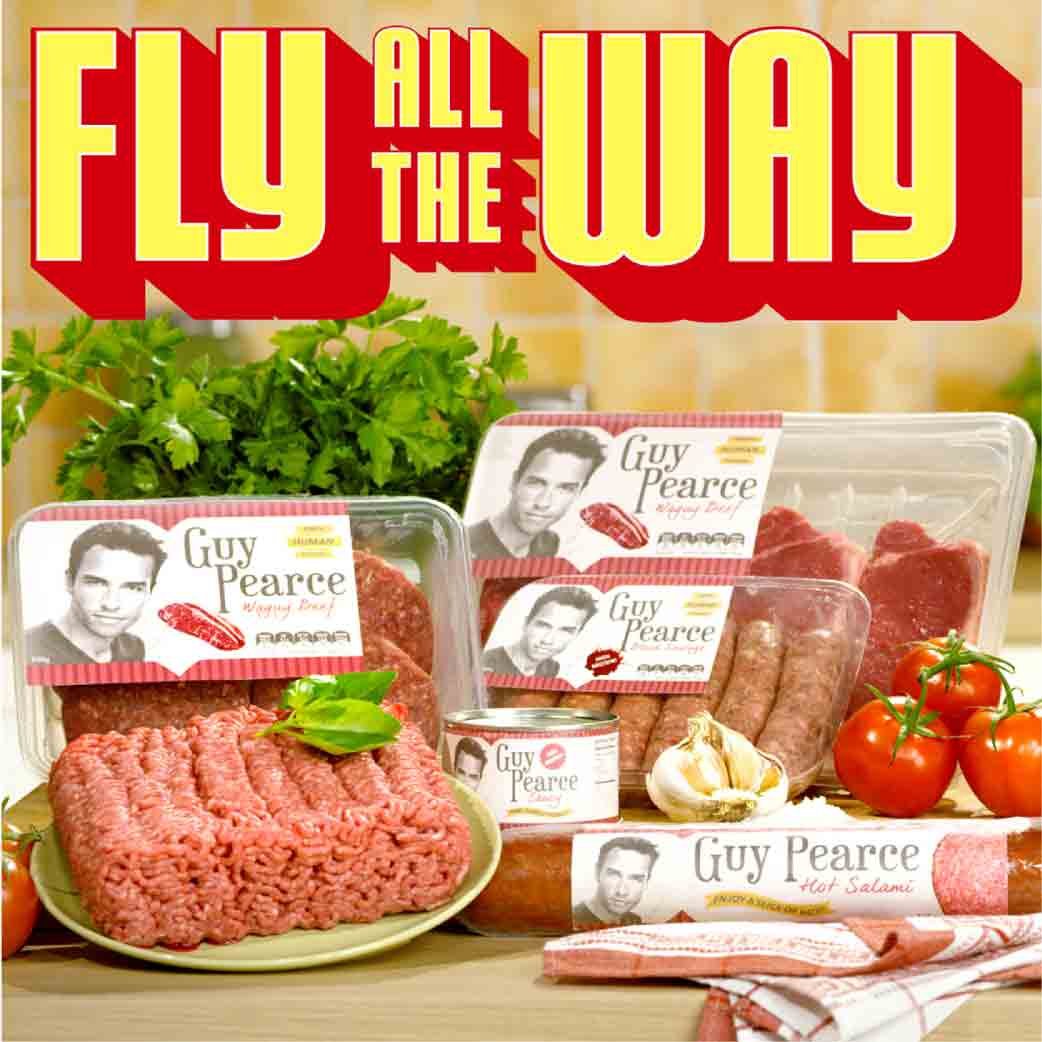 BUY
Collaborating with Melbourne-based commercial and music video director Tim White, the setting has a larger-than-life infomercial theme (complete with intro by Aussie TV host Larry Emdur who brilliantly cranks up the cheese) with disturbing sci-fi undertones.
Says Guy, "I knew I wanted to do something pretty nutty for this song and when Tim suggested we do a video centred around infomercial world I realised the idea was born. Tim took the rather petulant and unhinged nature of this song to a whole new level."

Asked how the idea for the 'Fly All The Way' clip came about, Tim says, "This video is an expression of my love for bleak dystopian sci-fi films & Australian morning TV infomercials. It's a winning combination that we don't see enough of nowadays.

"In my research I came across some really unsettling future technologies and ideas. The items promoted in the film are all based on future products and research but they each have an element of inconvenience tying them to the present day."

Guy shows many facets to his acting skills throughout, appearing as no less than eight different characters.

Tim explains, "I wanted Guy to embody a range of archetypal TV personalities; from a celebrity chef to a gross sleazy salesman. His transformations are kind of mind blowing!

Another recognisable face in the clip is none other than Annie Jones, who played Guy's longtime on screen girlfriend in Neighbours. Says Guy, "It was so much fun getting to work with Annie again. I just thought as we were venturing back into TV land, and there was to be a fairly typical 'family' scenario, it would be fun to see where Mike and Jane might've ended up after all these years."

FLY ALL THE WAY MUSIC VIDEO
Both Guy and Tim confess to the odd attack of nerves about the startling video.
Says Guy, "I was a little nervous at first, but as you can see I committed! On some level I now get to see the song for much more than it was when I wrote it thanks to Tim."
Says Tim, "I'd occasionally worry that my ideas were spiralling into some strange directions and that I might be going mad with creative power. But throughout the entire process Guy had complete trust in my vision and was totally engrossed in the concept. He's truly an extraordinary talent to collaborate with and an absolute champion of a dude."
"The crew was absolutely phenomenal. None of this would have been possible without their passion, talent and good vibes. I really can't take credit for this film; it was a labour of love and laughs for a whole lot of seriously talented and hard working people. For me, this was such a creatively fulfilling job and I'm immensely proud of this strange little film we somehow pulled together."
Guy has just announced a forthcoming national tour with former Powderfinger guitarist and songwriter, Darren Middleton.
"Fly All The Way", taken from the album "Broken Bones" is available now through MGM Distribution.
Tim has directed successful campaigns for brands such as Subaru, STA Travel & Keio University (Tokyo). He has filmed in 27 countries and his collected works have over 30 million views online. He is represented for commercial work in Australia, Japan, USA, Italy & Singapore. He has been twice nominated for the Cannes Young Director Award; in 2013, for his branded short film 'Shaping History, Shaping Tomorrow' for Keio University. Then again in 2014 for his music video for DCUP's 'Don't Be Shy' starring Japanese supermodel Kozue Akimoto alongside a male sex doll.
CREDITS
Cast (in order of appearance); Larry Emdur; Guy Pearce; Addam Brammich; Natalie Taylor; Dave McDonald-Ashby; Kiloran Hiscock,; Josh White; Annie Jones; Bernadette Francis; Khye Skoda; Safina Mckay.
Producers - Jamie Houge, Jess Langley, Virginia Kay ; Director - Tim White ; Assistant Director - Robbie Mcewan ; Production Manager - Jamie Houge; Cinematographer - Liam Gilmour; 1st Assistant Camera - Austin Haigh; Gaffer - Tom Savige; Best Boy - Lachlan Broughton ; 3rd Electrics - Jason Albur ; Costume Designer - Esther Hayes; Hair & Make-up - Mia'kate Russel; Hair & Make-up Assistants - Lulu Mcclatchy, Helena Smyth; Prosthetics - Mia'kate Russell; Production Designer - Marni Kornhause ; Construction - Glen Walton; Art Department Assistant - Zoe Lofts; Props Assistant -Julie Newton, Garry Westmore; Caterer - Angela Cronin ; Location -Horizon Studios; Stills Photographers - Zoe Twomey-Birks, Hana Davies; Offline Editor - Billy Browne; Online Editor - Viv Baker ; Post Producers - Bronwyn Ketels, Dani Gard, Olivia Carolan;; Colourist - Roslyn Di Sisto; Graphic Design - Julie Newton; Josh Ng; Copywriter - Pete Saladino; GPTV Theme Music - Nathan Savage ; Motion Graphic Designers - Prad Sen , Tim White; Publicist Erin Jameson; Production - Plot Media ; Post Production - Cutting Edge ,Method Studios.